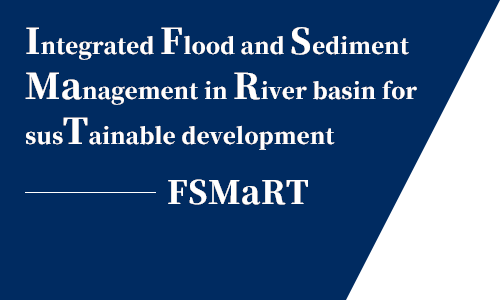 Welcome message
Welcome to the Integrated Flood and Sediment Management in River
basin for susTainable development (FSMaRT).
Globally, disastrous floods and extreme droughts pose great threats to human beings, especially under climate change and anthropogenic impacts. Human interventions such as deforestation, dam constructions, and expansion of irrigation system have magnified the impacts of climate change. Therefore, our project aims at developing an integrated approach for flood and sediment management for sustainable development in the world's river basins. We are attempting to assess the impacts of climate change and human interventions on reservoir sedimentation, flood inundation, agricultural practices, and river and coastal erosion. The ultimate goal of the developed project is to introduce efficient methodologies and approaches for the stakeholders and policy-decision makers to implement into the national laws. Along with the research activities, we also organize some training courses, seminars and workshops to train young researchers, stakeholders, policy makers, local communities and to expand our international collaborative network with many other countries globally. Therefore, your collaboration is highly welcome to overcome the associated challenges by flood and sediment hazards in your countries, to exchange the experience, and to foster our future collaborations.
If you are interested to be one of our future partners for any related projects, please contact us.
Why FSMaRT Is needed?
Japan, Vietnam and Philippines are among the most affected countries by extreme meteorological events including typhons, floods, landslides, etc, due to climate change and climate variability, which are predicted to increase the frequency and magnitude of the extreme floods and droughts. Additionally, human interventions such as deforestation, dam constructions, and expansion of irrigation system have magnified the impacts of climate change. The main challenges for river basin's sustainable development caused by climate change and anthropogenic activities are highlighted and listed in the following schematic Figure 2.1.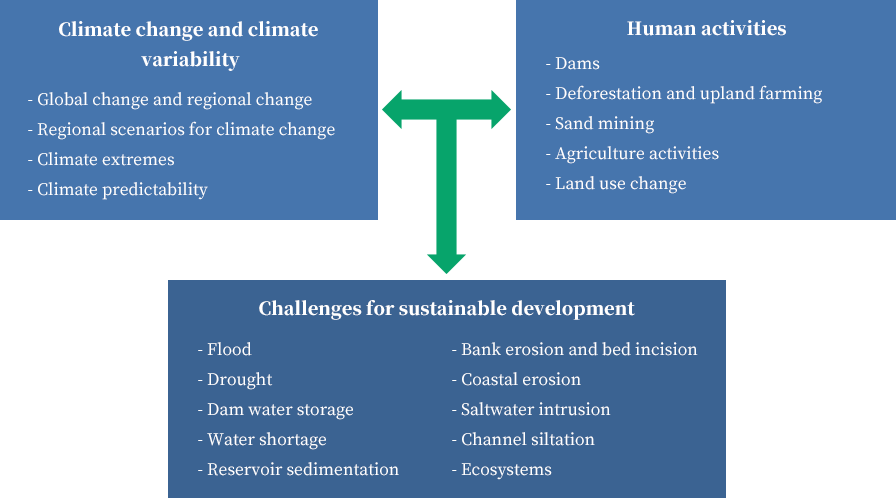 FSMART: Objectives & Mission
The main objectives of this project are listed as follows:
To assess climate change/climate variability and its impacts on the rainfall-runoff and sediment yield
To quantify the consequences of changing climate on floods, droughts, agriculture activities, and river and coastal erosion; then to propose appropriate

countermeasures

To

investigate, and

evaluate reservoir sedimentation in the river basins. Then, to develop an indicator for reservoir classification based on sedimentation rate and reservoir

longevity;

To propose potential technical solutions for removing accumulated sediment in

reservoirs;

To develop an integrated flood and sediment management for sustainable

development;

To establish an association that can bridge in implementing "integrated river basin management".
Activities
04 15, 2022

Conducted field survey and Bathymetry Measurement from 06 to 15 April 2022, for measuring the cross-sections, discharge, and flow velocity to study the mechanism of suspended sediments in VGTB Basin in Vietnam.

03 09, 2022

Installation of Turbidity Meters for data measurements at Magat; On March 9, 2022, the ISU and NIA-DRD team installed the 2 Turbidity Meters provided by Kyoto University at the 2 selected sites, Upstream and Downstream of the Magat Watershed.

03 09, 2022

The special session "APN session-Flood and Sediment Management" has been organized on 08 -09 March, 2022, for APN project researchers at the 2nd international conference on environmental sustainability and resource security (IC-ENSURES2022), and the proje

02 02, 2022

The 3rd Cagayan Valley Regional Chapter PSABE Convention Cum Stakeholders Forum on the Advances in Flood, Sediment and Water Resources Management, February 2, 2022: Presentations include the different advances and new interventions on the integrated flood

02 28, 2022

This project has also trained young researchers, stakeholders, policymakers, local communities from the Philippines on TELEMAC 2D and 3D by organizing comprehensive four days training workshop during 25-28 February 2022 hosted physically and virtually by

12 17, 2021

Paper presentation at NARBO Webinar on December 17, 2021, with a paper titled: Integrated Flood and Sediment Management in Cagayan River Basin towards Development of Action Framework.

12 24, 2021

The Reservoir Sedimentation Management Forum; This activity was a limited face-to-face training attended by project ISU staff and NIA – DRD staff. Presentations include the reservoir's current status according to the results of the bathymetric survey.

11 20, 2021

The Project Progress Workshop Meeting was organized, and participants from Japan, the Philippines, and Vietnam attended, where they presented the status of project activities and relevant research outputs.